COOKIE COOKBOOK
The 1st American Cookie Lady Recipes from a 1917 Cookie Diary Cookbook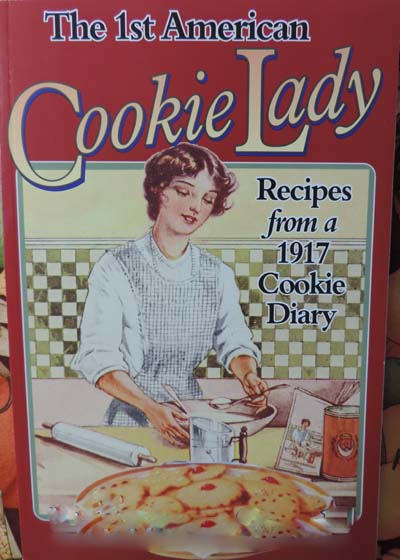 1st American Cookie Lady Cookbook $16.95
The 1st American Cookie Lady is based on a fascinating mystery. In 1917 Anna Cookie Covington set out to record all her favorite cookie recipes as a gift to her daughter because no published cookie recipe books existed at that time. Strangely her 76 page handwritten personal cooking diary was never delivered to her daughter as planned. 88 years later, the unused diary fell into the hands of food historian Barbara Swell, who recognized it as perhaps the earliest collection of American cookie recipes dating from the mid 1880s up through World War I. The 1st American Cookie Lady includes Anna's 221 recipes recorded from 1917-1920 along with adaptations for the modern kitchen, vintage graphics and photos, World War I food shortage recipes, plus curiosities of cookie baking history. 6" x 9", 152 pages.
RECIPES INCLUDE:
Sugar Cookies: Best Blitz Kitchen, , Cream recipe, Plain Dew Drops, Drop, Egg less, Fairy, Fancy, Irene's Light, Lady Fingers, Lemon, Mother's Orange, Plain, Quick, Rock Royal, Sand Tart, Shingles, Shrewbury Cakes, Snickerdoodles, Soft, Sour Cream, Sour Milk, Sponge, Sugar, Thin Rich
Shortbreads: Cocoanut, Scottish Petticoat Tails, Shortbread Varieties
Molasses Cookies: Brown Cookies, Chewy Molasses, Drop Molasses, Cinnamon Drops, Gingerbread Folks, Jungle Drops, Mama Drop, Maple Molasses Ice Box, Molasses, Roxbury Drops, Spice Cake Drops, Wine Drops Ginger Cookies: Ginger Cookies, Ginger Drops, Ginger Snaps, Iced Ginger Cookies, Laughing or Fun Nuts, Sour Milk Ginger
Filled: Filled, Fig, Fig Bars, Filled Cookies, Rum Raisin, Peek-A-Boo
Fruit: Applesauce, Armon, Boston, Currant, Edenkobers, Fruit Drops, Drop, Hazel Hermits, Not Baked Fruit, Pepper Kobers, Prune Rhubarb Rock
Chocolate: Brownies, Boston Brownie, Chocolate, Chocolate Nut, Cocoa
Pinwheel: Chocolate Orange, Marble, Mocha Ribbon
Whole Wheat: Bran, Graham, Peanut Butter Grahams Cornmeal Cookies: Colonial, Corn Meal, Corn Meal Hermits
Oatmeal Cookies: Brandied Raisin Drops, Filled Oatmeal, Gridly Oatmeal Oatcakes, Rolled Oat Rocks, Sour Cherry Amaretto Coconut: Cocoanut Balls, Cocoanut Cream, Cocoanut Jumbles, Cocoanut and Oat Meal, Macaroons & Kisses, Almond Macaroons, Cocoanut Kisses, Hickory Nut Kisses Peanut, Bermuda Peanut Wafer, One Egg Peanut, Peanut Butter, Peanut Snaps, Other Nuts kinds, Almond Spoonie, Nut Bars, Nut Jumbles, Walnut Drops, Wafers, Benne Seed Wafers, Brandy Snaps, Oatmeal Lace Interesting Flavors , Anise, Caraway, Carrot Marmalade Cookies, Castor Oil recipe, Cigarettes Cookies, Coffee, Delicious, Rhubarb, Spencer, Swiss, Springerle Tea Cakes WWI, Barley and Rolled Oat, Fancy, Honey, Mashed Potato, Nut Crisps, Oatmeal Macaroons, Rhubarb Marmalade, Rice, Rolled Oat Crisps, Rye Drop Cakes, Shorts recipe Plain, Toasted Wheat Germ, War Cookies.
We have never been able to find so many good recipes and variety anywhere else. This is filled with fun and easy things to make.
PIE COOKBOOK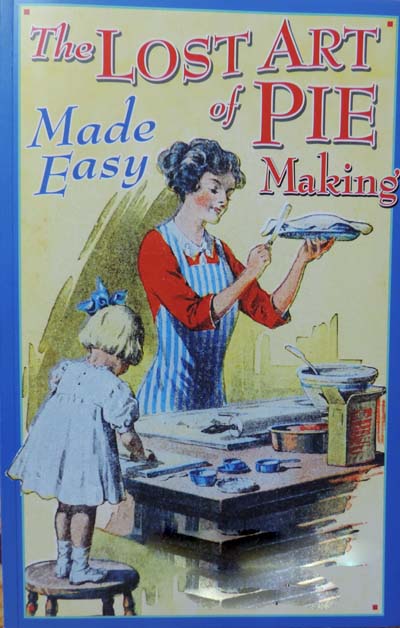 Pie Making Made Easy $8.95
Come home to Pie. This is witty and fun to show you how to make a darn good pie in a jiffy. You'll feel like you're back in your grandma's kitchen as she shows you how she rolls out her flaky, tender pie crust. Recipes date from 1831, many from 19th century handwritten journals. Includes old time pie lore, pie insults, why men love pie, pie contest tips, vintage photos, historic recipes and more. Make pies like Run Bittersweet Chocolate, Vanilla crumb, Apple/Pear Mince, quick flip pies, dumplings and crisps. 5 1/2" x 8 1/2" 72 pages.
RECIPES INCLUDE:
Pie crust: Aunt Jenny's Crust, Barbs Butter Crust, Mom Brooks' Crust, Oil Crust,
Fruit Pies: Apple Raspberry, Concord Grape, Dutch Oven, Apple Cherry, Fresh Blueberry, Fresh Raspberry, Fresh Rhubarb, Green Apple July Berry Pie, Raspberries in Ambush, Simple Summer Fruit, Sour Cherry Amaretto, Sponge
Two Crust Lemon Pie: Lemon Custard, Lemon Meringue, Lemon Sponge
Two Crust Lemon: Cream Pie: Banana Cream, Chocolate Cream, Coconut Cream, Orange Cream
Holiday Pie: Apple/Pear Mince, Farmer's Mince, Mock Cherry, Pumpkin, Pumpkin Chiffon
Custard: Chess, Chocolate Chess, Lemon Chess, Coconut, Key Line, Os-Good, Pinto Bean, Rum Bittersweet, Sliced Sweet Potato, Sweet Potato
Quick Pie: Apricot Skillet, Cranberry Surprise, Fruit Crisp, Honey Apple Dumplings, Miracle Cobbler.
Who doesn't love pie, step by step instructions for you and the family to have fun in the kitchen. An old fashioned way to learn new things.
Bread Cookbook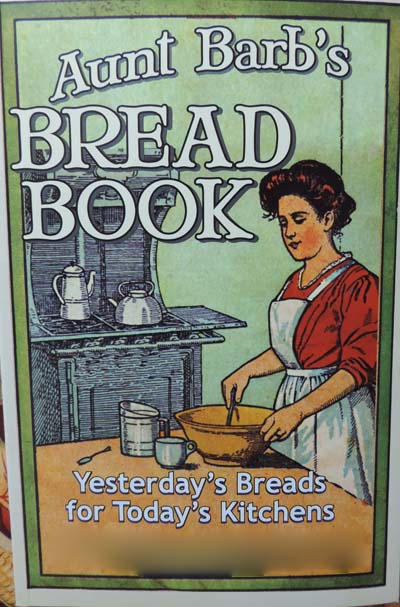 Aunt Barb's Bread Book $8.95
Bake up your great grandmother's wholesome, tasty heart-baked breads in your own kitchen today! You'll be amazed by the stunning loaves and rolls you pluck from new or vintage cast iron wear, baking stones, or everyday gizmos that produce yesterday's radiant environments for your modern oven, wood fireplace or campfire. Recipes from 1820 through 1920 include harvest bread, whole grain little gem breads, oat sandwich loaf, buttermilk rolls and lots more. This contains oodles of period photos and bread lore and is appropriate for all skill levels. 5 1/2 x 8 1/2 - 72 pages.
RECIPES INCLUDE:
YEASTED BREADS: Apple brown bread
Boston
Brown bread
Home ground wheat bread
Honey cornmeal bread
Mid-morning peasant loaf
Oatmeal bread
Orange currant rye bread
Overnight unkneaded bread
Overnight unkneaded cheese bread
Overnight unkneaded pizza dough
Overnight unkneaded whole grain bread
Rustic country sourdough bread
Rustic farmhouse family bread, Rye and Indian third bread
Welsh pan or pot bread
Wild yeast (sourdough) bread
LITTLE BREADS:
Buttermilk rolls,
Herb crescent rolls
Monkey bread
Onion poppy seed bialys
Potato Parker house rolls settlement bread
Whole wheat English muffins GEMS: Apple gems
Corn bread gems
Graham gems
Half cup thread gems
Popovers, Orange marmalade.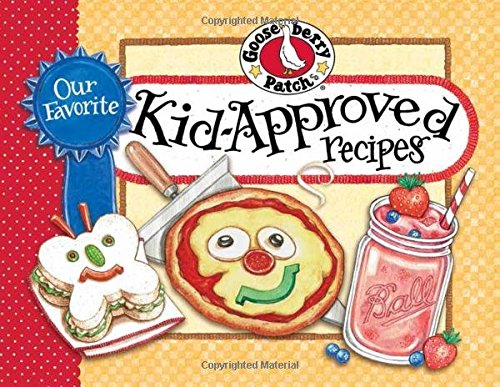 Kid Approved Cookbook $10.49
Whether you've got budding chefs at home, or just hope to get your kids more involved at mealtime, Our Favorite Kid-Approved Recipes is here to help. You'll find over 60 kid-friendly recipes just perfect for beginnings. From simple but delicious. Ultimate Grilled Cheese Sandwiches and Baked French Fries to Pepperoni Pizza Bread sticks and Banana-Berry Smoothies, these recipes are sure to bring kids to the kitchen. There are after-school snacks, Saturday-morning breakfasts and even tasty dinners!

When kids help at mealtime, their appetites are even better! Let them pick what's for dinner tonight. AFTER SCHOOL SNACKS:
Bagel Pizza Broccoli trees & tuna dip Cheesy pot o gold Dip Deliciously Dippable Fondue Fiesta Nachos
"Grilled Cheese & Surprise Fries
Ooey Gooey Smores Puffs
Teddy Bear Honey Munchies
BEVERAGES
Banana berry Smoothies
Jungle Malt
Lemon shake-Up
Melon berry Lemonade BREADS & MUFFINS
Anytime Cheesy Biscuits
Blueberry Bread
Mom's Applesauce Muffins
Pepperoni Pizza Bread sticks
Pumpkin Muffins
Sweet Pretzel Twists BREAKFASTS:
French Toast Sticks
Get Up & Go Cookies
Mom & Me Chocolate Chip Pancakes
Pancakes
Rise & Shine Pizzas
Toad in the Hole
DESSERTS:
Apple-Cinnamon Turnovers
Chocolatey Lava Cakes
Ice Cream Sundaes
Marvelous Caramel Bars
Snickerdoodles
MAINS:
Cowboy Beans & Rice
Easy Cheesy Quesadillas
Funny Face Pizzas
Grilled Pepper Steak Packets
Hamburger Crunch
SANDWICHES:
All-American Coney Dogs
Apple & Turkey Sandwiches
BLT Tuna Sandwiches
Ham & Cheese Roll-Ups
Tex Mex Taco Joes And more.